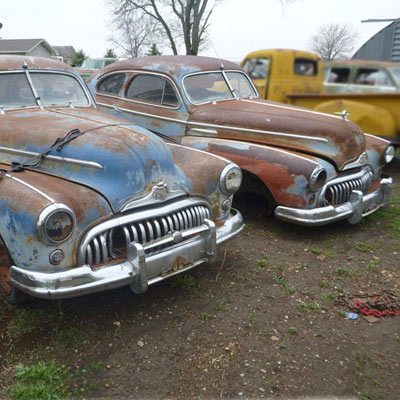 Two 1948 Buick Specials
From 1936 to 1958, Buick's Special model represented entry level of their full-size cars. 'Special' was known as the '40' series internally. These cars were appreciated for their dependability and good quality.
History
For 1946 only the larger Special range remained available, still using the prewar B-body. The '46 Specials are rare, representing less than 2% of Buick's production that year. The Special continued with minor changes until the prewar body was finally replaced halfway through the 1949 model year.
Post-war 'Specials' were available as four-door sedans or two-door "Sedanets" until the new 1949 models arrived.

At the Auction
Note: Auction has ended!
For sale are two very original 1948 Buick Specials!
These are great looking cars and they are 95% complete. Parts for them are not so difficult to find. Many are interchangeable with Chevrolet or Pontiac. There are no titles with these cars which is not unusual for these years. Bill of sales are available.
Both cars look solid, but I have never had them on a lift. Interior is in barn fresh, farm fresh condition 🙂
If you are a Buick / GM person you know what to do with them.