Buick Inline Eight Engine
The Buick Straight-8 engine was named 'Fireball' and was produced from 1931 to 1953. The Buick Inline Eight engine (Straight Eight) was developed 1931 as a more powerful alternative to their inline-6 engines.

The inner works are revealed in this cool cut-away sketch. [Source: Wikipedia]
Buick Inline Eight Engine History
The engine was sold in different displacements depending on the model of car and the year. It was constructed upon two distinct block castings.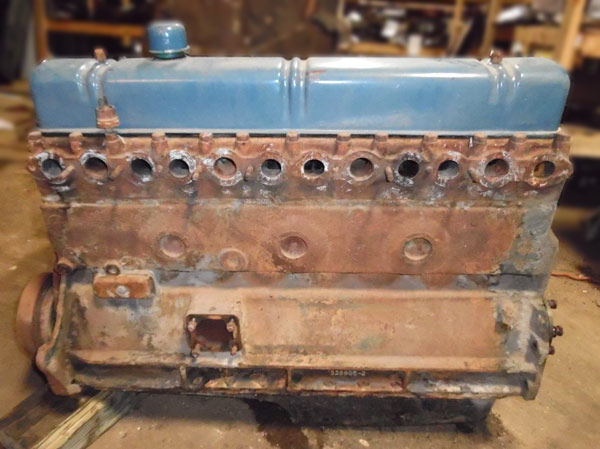 The smaller displacement versions internally resembled the inline Chevy Straight Six, with additional cylinders.
The large block version (used in large models like the Roadmaster) was considerably heavier. The weight adversely affected vehicle performance and handling.
Buick Inline Eight Engine Production
Typically GM used cast-in-place bearings that make it somehow difficult to rebuild these engines. Buick's Straight-8 production ran out in 1953. More technical details about these engines we can see at the Buick Inheritage website. The Fireball engine was finally succeeded by the new V8 322ci.
The engine displayed here is a 320 block that was pulled out of a 47 Buick Roadmaster. It is definitely original.

At the Auction
My Buick parts book shows the block will fit any 1946 through 1948 Roadmaster with a manual transmission.
Spins over freely. It is offered here for parts or to rebuild because of the age. This only because no one can say for sure in what shape the interior is.
The paint on the valve cover is light blue and definitely original.