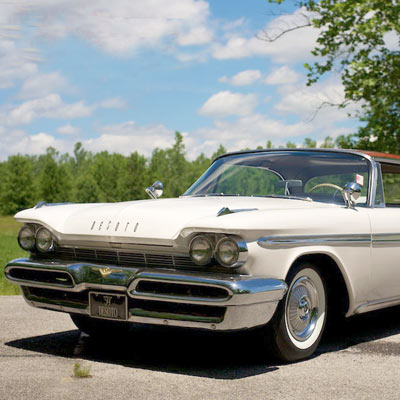 1959 De Soto Firesweep
The De Soto Firesweep was a lower-priced entry car which combined a Dodge shell and chassis with a DeSoto bumper and grill.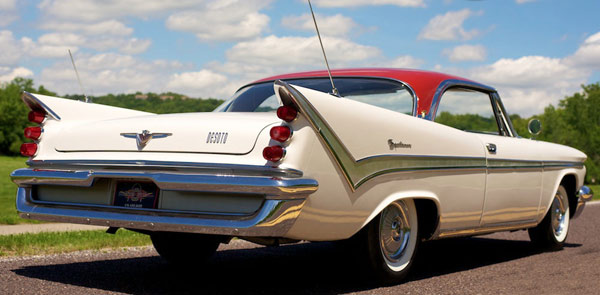 History
The DeSoto (written also 'De Soto') was an American automobile, manufactured and marketed by the DeSoto Division of the Chrysler Corporation. They were in business from 1928 to 1961. The DeSoto logo featured an image of Spanish explorer Hernando de Soto. The De Soto name was dropped November 1960. They had sold over two million cars since 1928.
While the Firesweep featured De Soto's signature tail fins, front clip was based on the Dodge Coronet. The most significant feature was the headlight design, housed under heavily chromed lids typical of Dodge. Firesweep grilles were similar to those on other contemporary De Soto models.
The 1959 De Soto Firesweep could seat six passengers. Depending on the body style, Firesweeps weighed between 3,660 and 3,980 lbs. Firesweeps were offered in one and two-tone exterior finishes. Features included power steering, power brakes, push-button radio and a dashboard clock.

Note: Auction has ended!
At the Auction
This car has:
361 cid Big Block V-8

Power Steering

Original Dashboard & Gauges

Push-button Gear Selector

Many Optional Extras

48,251 Original MilesA Firesweep could seat six passengers and was available as a four-door sedan, five-door station wagon, two-door coupé, and two-door convertible; with two-door models being the rarest. Power was provided by Chrysler's 361 V8 producing 295 hp.