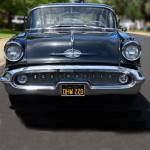 1957 Oldsmobile 88 2Dr Sedan
The 1957 Oldsmobile 88 is a full-size auto that was produced by Oldsmobile from 1949 until 1999. From 1950 on it was the division's top-selling line. The 88 series was an image leader for Olds in the early years. Back then it was one of the best performing automobiles. That because of its light weight and advanced high-compression V8 'Rocket' engine.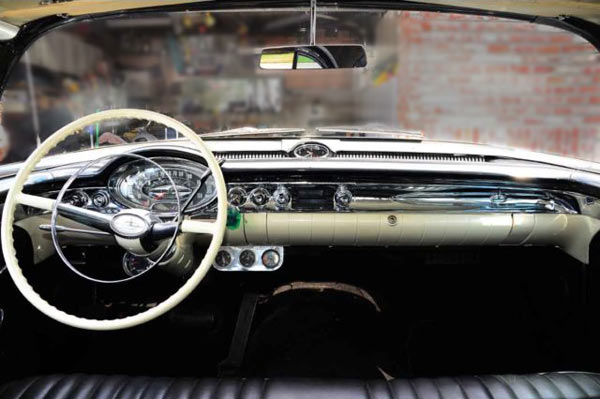 History
For 1957, the basic 88 was named Golden Rocket 88. The name was taken from Olds' 1956 Motorama two-passenger show car. Only badging was an "88" underneath each taillight. For 1957 the "J2" option was offered, with three 2-barrel carburetors. (The car featured here has this option. The 'Oldsmobile Rocket' signature is missing on the valve covers, though.) The Super 88 continued as the upscale mid-line series. Under the hood, the Rocket V8 increased in displacement to 371 cubic inches and 277 horsepower. Although rare, three speed manual transmissions were still available. Styling of the highlights was re-worked. Also the overall looks with three-piece rear window styling was utilized on the 1957 Oldsmobile 88. It also added a safety deep-recessed steering wheel this year.

Note: Auction has ended!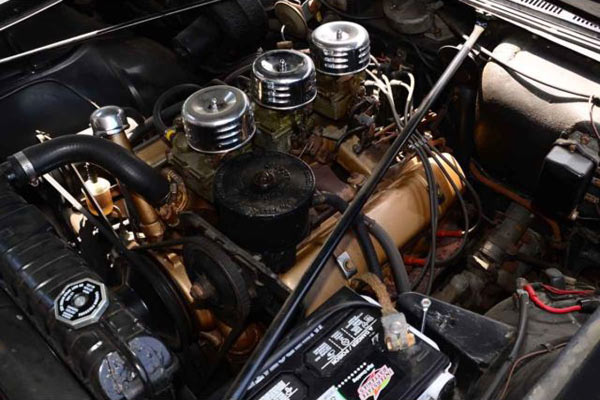 At the Auction
Frame on restored 1957 Oldsmobile 88 Holiday Golden Rocket 2 door hardtop. Powered by a 371 cubic in V8 with the J2 factory option (3 Deuce carb intake) and 4 Speed Hydramatic transmission. This car is straight and in excellent condition. Front and rear bumpers have been rechromed. Grill is original. All exterior stainless steel trim as well as badges and emblems are excellent. This was a personal favorite of the previous owner of 26 years. Charcoal Metallic Silver paint and role interior. Carpets and headliner are excellent. The dash is original (uncut) with restored original gauges. Additionally a non-original tachometer and 3 gauge mechanical set have been added below dash to report RPM, oil pressure, water temperature and voltage. All lights, signals and wipers are in working order. Trunk is solid, floor pans and trunk pan are in great condition. Undercarriage is not detailed. Non-original BFG Radial TA's.