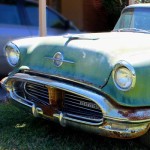 1956 Oldsmobile 98 Holiday 2Dr
The Oldsmobile 98 is the full-size model of Oldsmobile that was produced from 1940 until 1996. The name is reflecting a "Series 90" fitted with an 8-cylinder engine. It was, as it would remain, Old's top-of-the-line model. This car was featured in a two tone color combination.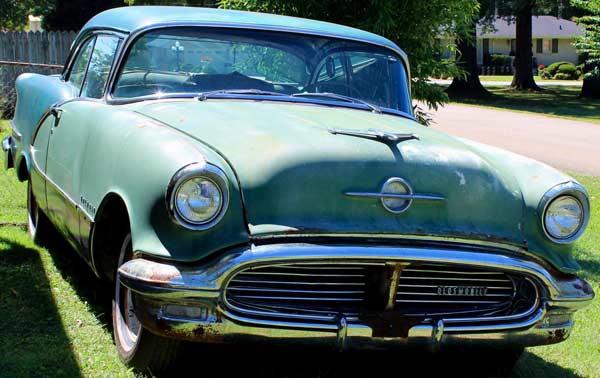 History
In 1956 the top of the line Oldsmobile 98 series had an exclusive 126.0 in wheelbase, 4.0 in longer than the 88. Power came from the 240 horsepower Rocket V8. Standard equipment included armrests, bumper guards, lined trunk, rotary door latches, dual horns, cigarette lighter, turn signals, rubber floor mats, aluminum door sill plates, sun visors, carpeting, foam seat cushions, courtesy lights, deck lid '98' script, electric clock, Jetaway Hydramatic Drive, padded dash, power steering, windshield washers and Deluxe steering wheel. The parking brake was now a foot pedal.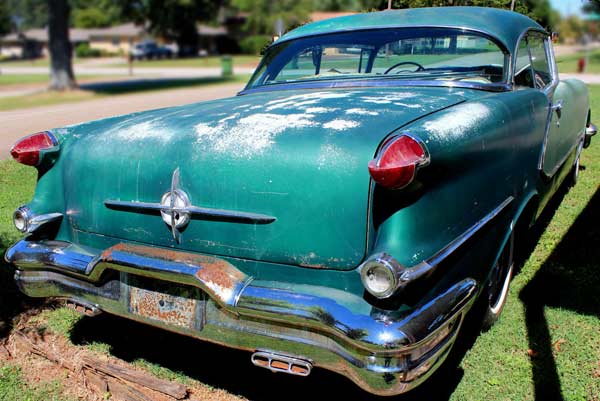 Note: Auction has ended!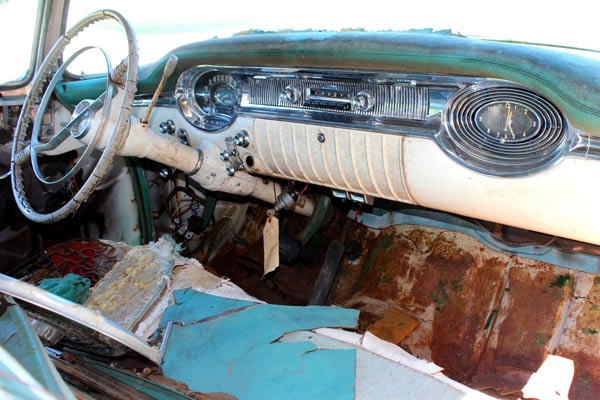 At the Auction
This car features the 324 c.i. 'Rocket V8' engine with Hydramatic, power steering, power brakes, power windows,
power seats and a padded dash. It needs a new gas tank and battery before it can be started. The motor looks solid and clean after sitting up for several years. Original paint was pale green and white, but many years ago someone changed the color to a two-tone green. Most of the interior parts are in the trunk. The trunk pan is solid except for one area close to the driver's side wheel well and a small strip along the rear section. Also small areas rusted through on the rear portion of the front fenders and small area on the front section of the rear quarters. It has the rear exhaust deflectors still on it. Extra parts are in the trunk. Chrome is in good shape with surface rust. The windshield and back glass are tinted and are in good shape with only a minor crack on the driver's side window. The interior is white leather with original green cloth inserts.