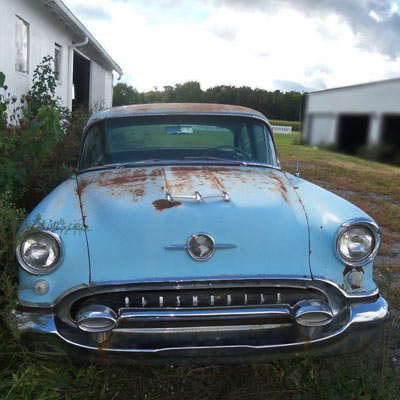 1955 Oldsmobile 98
In the previous year, 1954, Oldsmobiles had been redesigned with a (three body style) '98' series at the top of the line.
The Oldsmobile 98 is the full-size model of Oldsmobile. Production of cars with this name ran from 1940 to 1996. It was the Olds' top of the line model. (Lower 'ranked' cars of this make having lower type numbers, like '60', '88' etc.)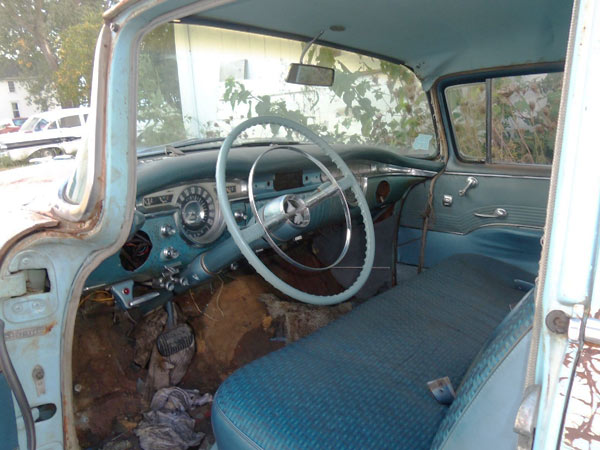 History
Standard equipment included bumper guards, dual horns, cigarette lighter, front and rear floor mats, inside rearview mirror, foam rubber seat cushions, turn signals, stainless steel rocker panel moldings, front seatback robe cord, hood insulation, rear window ventiplanes, electric clock, stainless steel wheel discs, custom cushion lounge seats front and rear, hand brake light, courtesy light package, padded dash, Deluxe steering wheel with horn ring and windshield washer.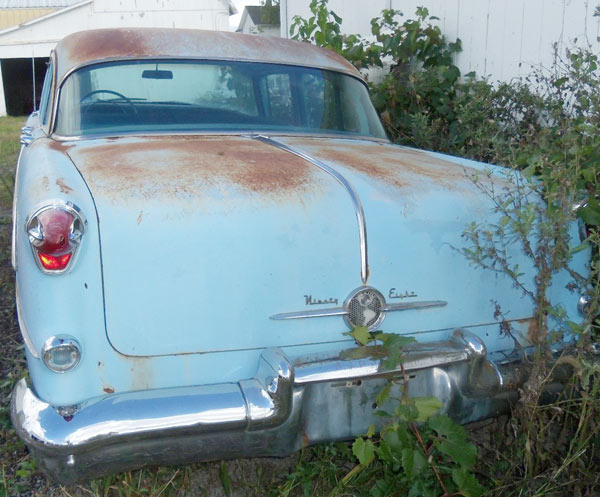 Upholstery choices were covert and pattern cloth, leather and pattern cloth, leather and nylon, and leather and dimple leather. The optional air conditioning unit was moved to the engine bay instead of the trunk. The Hydramatic automatic transmission gear selector had an 'S' on it, which was used for better climbing performance. At mid-year, Olds introduced the new pillarless four-door hardtop body, dubbed the Holiday sedan, in the 98 series. As we can see this car is not a Holiday.
At the Auction
Nice solid 1955 olds 98, I have the original bill of sale for this car, it was $3400 new. It has power seat and windows and was factory AC car but AC parts were removed a couple years ago. If someone wanted to put it back to
original I have most factory AC stuff for an additional $2000. Car needs Balancer, fan and radiator put back in. It will come with 2 groove balancer, fan pulleys and 4 blade fan. I had the car running 2 years ago and ran well but brakes went to floor so never drove it. Turned it over by hand the other day and it spins fine. All exterior trim/pot metal is there and in much better condition than most. I hate to part this car out. Hope someone sees some potential here.