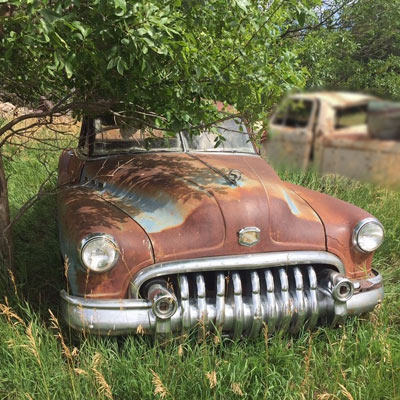 1950 Buick Fastback
The Super shared a new General Motors type 'C-body' with the Roadmaster cars, but on a shorter wheelbase. It featured three chrome 'Ventiports' on the front fenders to denote its smaller straight-eight engine and shorter engine compartment when compared with the Roadmaster.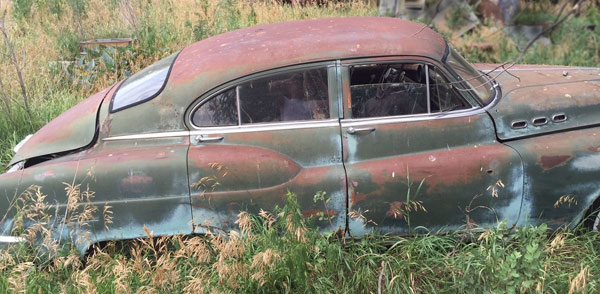 It is a 4dr Fastback!
The 4dr fastback styling is pretty rare. As we can see the original color of the car is green. The style is 1950 year, 50- 4407 (torpedo = fastback).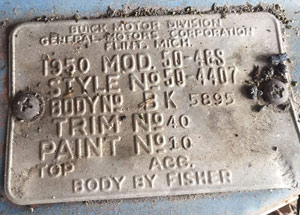 More History
Cloth interiors were standard, except on convertibles, where leather and leatherette were used. Dynaflow automatic transmission was now optional equipment on Supers.
The 1950 Buick Supers shared with all the other series a new all bumper guard grille ('water fall' styling) and in general a more rounded styling theme.
The 1950 Buick Super was able to achieve speeds over 90 miles per hour (140 km/h) with an optional Dynaflow automatic transmission which, rather than changing through gears, used the torque converter to couple the motor to a single gear ratio. The car had 2 splits in the back glass although the windshield was now curved one-piece glass. Models also could be equipped with an AM radio and an antenna that could be adjusted via a knob in the front center above the windshield.

At the Auction
Note: Auction has ended!
4 dr. jetback sedan. Purchased over 25 years ago as a restoration project. Changed jobs, moved, and obviously
didn't get completed. Also have a 1950 two door Buick. (pics attacked), that will sell together as a set.
Buyer must pickup or ship cars at their cost and selection of carrier. Cars located in north central Kansas.
Also have photo copied auto manual from a dealership on 1950 buick roadmaster.