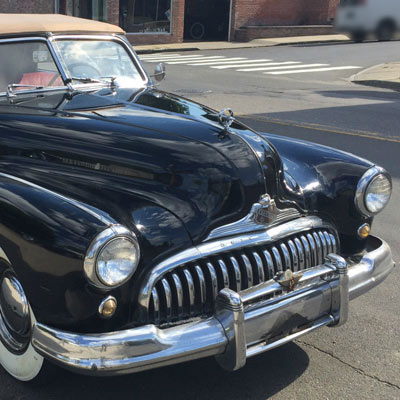 1947 Buick Super Convertible
The Buick Super is a full-sized car produced from the 1940 through the 1958 model years. It was built on Buick's larger body style (shared with the Roadmaster).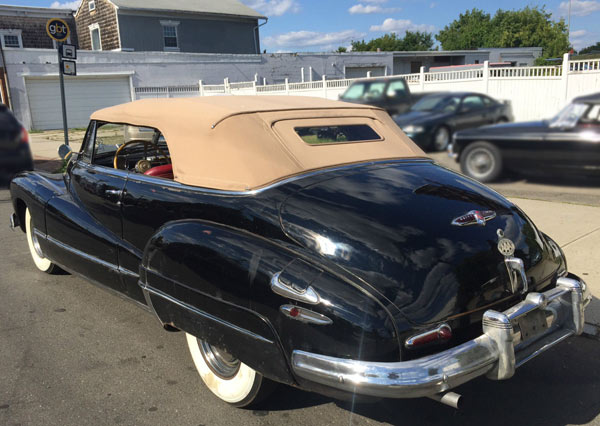 Basic styling was continued from 1942 now sedans had the front fender sweep across the doors to the rear fenders as did the Sedanet and convertible styles. A stamped grille with vertical bars dominated the frontal ensemble. Single stainless body trim lines began on the front fenders and ended at the rear edge of the standard rear wheelhouse shields. Standard equipment included an automatic choke, clock, ash receiver, turn signals and woodgrained instrument panels. Exterior series identification was found on the crossbar between the bumper guards front and rear. Cloisonne emblems carried the Super emblem. The number of body styles increased to four with the return of the Estate wagon after a six year absence.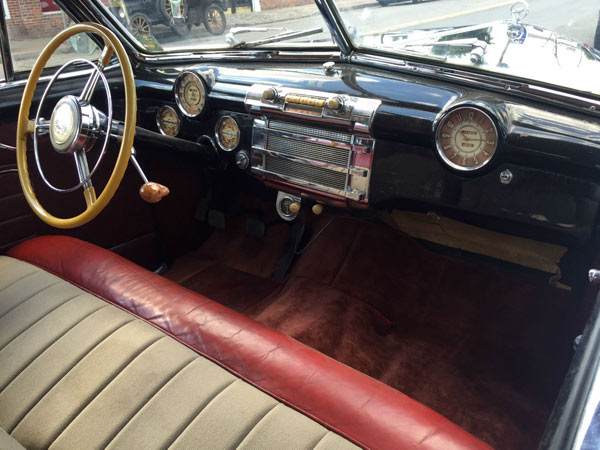 The car uses the 'Fireball' Inline 8 engine with a 3-speed shift transmission. The Super was little changed from its 1946: Most noticeable was a stamped grille that had separate upper bar and new emblem. Stainless lower body moldings used, too. A white Tenite steering wheel was standard while the instruments were round and set into a two-toned dash panel. A chrome emblem was used with the series script and filled with red. Sales reached a record 160'000.


Note: Auction has ended!
At the Auction
A very original 1947 Buick Super Convertible that was in the original owners garage since 1970. This car retains its nice original paint, upholstery, and chrome which are all in great condition, and is only one owner from new. It has all new brakes, master cylinder, wheel cylinders, exhaust and the carburetor has been rebuilt. Also, it has a new tan canvas top as original and has brand new top cylinders so the top goes up and down perfectly and it also has a set of brand new whitewall tires. Mechanically this car is like new and drives incredibly well. On the right rear quarter window it has a decal from the 1964/1965 worlds fair in New York where this car must have been and on the windshield it has its last New York registration sticker from 1969. It's an amazing time capsule that can been driven anywhere or is eligible for any car show preservation class. Also have New York registrations back to 1954.