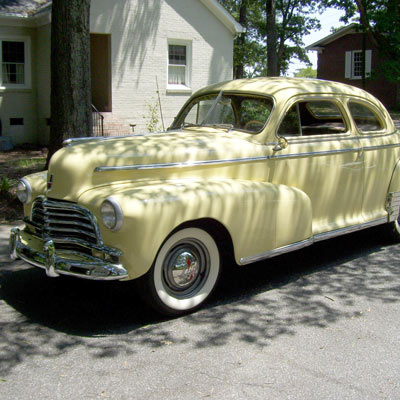 1946 Chevrolet Fleetmaster
A 1946 Chevy Fleetmaster , painted in a '46 Cairo Cream color. It has been repainted about a year ago with a new interior correct for 1946 from LeBaron Bonney Co.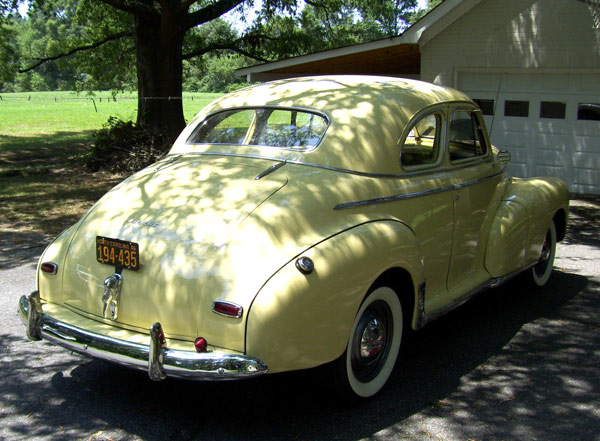 History
The 'Fleetmaster' was introduced as the top model of the 1946 Chevrolet range, along with the lower level 'Stylemaster'. The Fleetmaster was powered by a 216.5 cu in (3.5 L) Straight-Six engine. Using a 3 speed manual transmission. They were only available with 6 cylinder engines.
Fleetlines were produced 1946 to 1948.
Body styles were a 2-door Town Sedan, a 4-door Sport Sedan. Also a Sports Coupe, a Convertible and 4-door Station Wagon body style.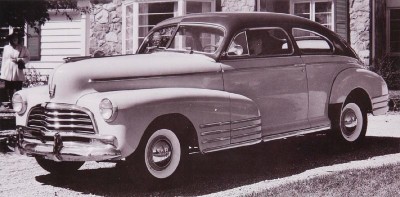 The Fleetline sub-series was available as a 2-door 'Aero Sedan' and a 4-door Sport Master Sedan. These cars featured both a "fastback" styling. Additionally came a triple stripe trim on the fenders.

At the Auction
Note: Auction has ended!
The motor is the original 6 cylinder with the original 3 on the tree that were rebuilt years ago. The motor runs well and the transmission shifts well too but the engine compartment area is all original and needs cleaning and paint.
Tires are new and brakes are new with a rebuilt master cylinder. In keeping the car as original as possible the electrical is still a 6 volt system and works fine. The bumpers and grille of the car are all original and have been rechromed and look very nice. The floors are solid and need cleaning and undercoating underneath.
This car is a nice driver  and a lot of fun. A clear NC title comes with the car.