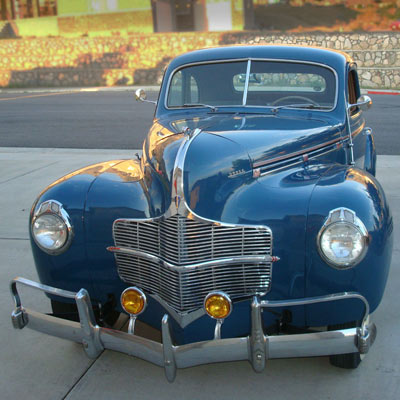 1940 Dodge Business Coupe
The Dodge company was founded by the brothers Horace and John Dodge in 1900. Car production started 1914. Our car featured here shows a 1940 model. The style and body originated from the 1939 styling called 'Luxury Liner', introduced at the company's 25th anniversary.
History
After a 1928 buy out, Chrysler took over Dodge. The coming years Dodge did very well, backed up financially by Chrysler.

The 1940 models maintained the Dodge reputation delivering practical durability and honest dollar value. Dependability and conservative styling were the real foundation of the company. Business run very well these years and made many Dodge (and Plymouth) dealers rich beyond their imaginings.
Dodge added safety features such as a smooth, flat dashboards with no protruding knobs and padded front-seat backs for the benefit of passengers in the rear seat.
Still, there were new bodyshells that year with sleeker profiles, integrated trunks, and two-piece vee'd windshields.
Dietrich gave Dodges a fresh, Art Deco style adding flush headlamps astride a rounded prow dividing a lower-profile horizontal-bar grille. The 1940 models have a 119.5-inch wheelbase and look cleaner despite having more chrome, including a larger grille stretched across the prow.

Note: Auction has ended!
At the Auction
For sale is a very original 1940 Dodge business coupe! The engine has been replaced in the 1960's (with a correct type). Everything else is very original. Exhaust and breaks are new.
These are great looking cars.